If you have a dream job, you must read
Quitter by Jon Acuff
. I did. He had 8 jobs in 8 years. I've had 9 (going on 10) majors in 5 years. I got accepted into the glassblowing program at USA in Alabama. Yay! When I read his book, however, I had a bit of an epiphany. The glassblowing is a means to an end as well. It's not retail and there is potential to make real money. Because to achieve my dream job, we will need real money.
See, my dream is a pretty far-fetched one. You can read all about it
here
. My ideal day is to spend it riding around picking up donations with my husband, visiting yard sales to get deals, teaching life-skill classes, fundraising, and actually making a difference. I've realized we don't need much to be happy and both Rodney and I have agreed if we were able to pull this off, having our lives actually mean something would be far more valuable than a steady paycheck. Sure, we want to travel to Wales. That may never happen regardless of whether or not it's because we were too busy helping people get back on their feet.
He wants to be a public speaker and motivate the masses. I want to run a revolutionary non-profit. I think we're going to be quite the power couple. ;-)
What's your dream job?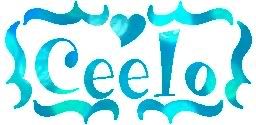 |About Ceelo|
|Contact Me|
|Tutorials|
|Buttons|